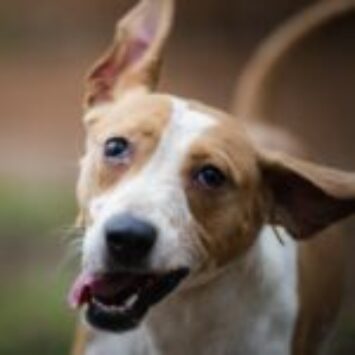 Bella is an energetic pup that loves taking long walks for exercise. She loves pets and always wants to be in your lap. She's very goofy and bounces around the yard like a rabbit when playing with her friends.
Likes:
👍 playing with dogs and people
👍 snuggles and getting pets after exercise
👍 adventures and time outside exploring with her hound nose
👍 loves naps in the crate after activities
👍treadmill walks when the weather is gross
Dislikes:
👎 loud noises bother her but not super badly (gunshots, loud thunder, fireworks)
👎 rude dogs or dogs that are too rough with her
👎 being picked up but does much better with practice
👎 heavy rain
Bella's ideal home would be an active home with have a fenced yard, since she loves to run and explore. Bella would love a fur sibling, but needs a home without young human children, since she can be sensitive to touch if it's too sudden. She is crate trained and loves her safe space.